VEGETABLE PATTIE
With just one serving of a Globe Protein product consumed daily, our consumers meet their vitamin B12 needs!
A GOOD SOURCE OF COMPLETE PROTEINS AND VITAMINS
Globe Protein created Grillon la viande Crickmeat™ just for you. A pattie made from grilled vegetables, a sustainable and succulent food, containing 11 g of complete proteins per serving without gluten or soy. It can be grilled on the BBQ or prepared in the oven or in a pan. Enjoy it anytime with family or friends!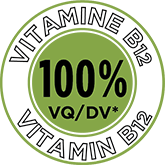 Ingrédients
Ingredients: Cooked buckwheat [buckwheat, water], cooked chickpeas [chickpeas, water], gluten-free oatmeal, sauteed mushrooms, roasted peppers, water, beets, sunflower oil, corn, dried citrus pulp, onions , spices, organic pea protein powder, nutritional yeast, tapioca starch, cricket powder, fresh herbs [basil, parsley], fresh lemon juice, tomato puree, fresh garlic, ground flax, psyllium husk powder, salt.
Caution: People with allergies to shellfish and seafood may have an allergic reaction to cricket.
PREPARATION METHOD
If the product is frozen:
In the oven: Remove the patties from the bag and cook on an aluminum plate at 350 ° F for 12 to 14 minutes. Turn halfway through cooking.
On the BBQ: Remove the patties from the bag and cook for 10 to 12 minutes. Turn halfway through cooking.
In a pan: Remove the patties from the bag and cook over medium heat for 4 to 5 minutes per side.
If the product is thawed:
Follow the instructions above, while reducing the cooking times by 2 minutes.
Store in the freezer for up to 6 months.
VEGETABLE PATTIE
Our cricket powder vegetable patties are carefully crafted by Crickmeat, a brand dedicated to making you happy.  It's a perfect example of sustainable food: local, healthy, accessible and eco-friendly. The grilled vegetable pattie is now available near you.
This pattie will appeal to everyone, both for its delicious taste and for its nutritional value. Enjoy the pleasures of summer, our pattie is perfect for BBQs with family or friends.